IAIR is delighted to dedicate this webpage to Fons J. R. van de Vijver who was honored by the American Psychological Association with the "Award for Distinguished Contributions to the International Advancement of Psychology"

A brief bio of Fons J. R. van de Vijver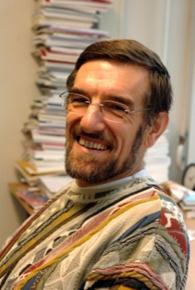 Fons van de Vijver (1952) has studied psychology at Tilburg University in the Netherlands. He holds a Ph.D. from the same university. He holds a chair in cross-cultural psychology at Tilburg University, the Netherlands and an extraordinary chair at North-West University, South Africa, and the University of Queensland, Australia.
He has published over 375 publications, mainly in the domain of cross-cultural psychology. The main topics in his research involve bias and equivalence, psychological acculturation and multiculturalism, cognitive similarities and differences, response styles, translations and adaptations. He is or has been supervising about 35 PhD studies and 5 post-doc studies. He has teaching experience in cross-cultural psychology and methods/statistics. He has presented keynotes and invited lectures at various conferences and workshops in various countries. He is one of the most frequently cited cross-cultural psychologists in Europe.
He has received grants from various Dutch institutions (such as NWO and WOTRO), European Union (Marie Curie), South African Netherlands Research Programme on Alternatives in Development, and South African National Research Foundation. He is member of the following professional organizations: International Association for Cross-Cultural Psychology, International Association of Applied Psychology, European Association of Psychological Assessment, International Academy for Intercultural Research, and the International Test Commission.
He is the former editor of the Journal of Cross-Cultural Psychology, and serves on the board of various journals; he has evaluated manuscripts for about 100 journals as ad-hoc reviewer.
He has been vice-dean for research and vice-dean for education of his faculty and vice-director of Babylon, the interdisciplinary research center for studies of multicultural societies at Tilburg University. He is a former president of Division 2 (Assessment and Evaluation) of the International Association of Applied Psychology and is now President of the European Association of Psychological Assessment.
He is the 2013 recipient of the International Award of the American Psychological Association (for his contributions to international cooperation and to the advancement of knowledge of psychology).
h-index ISI = 22; h-index Google Scholar = 44; i10 index Google Scholar: 106
Email: fons.vandevijver@uvt.nl
Webpages:
· http://www.fonsvandevijver.org
· http://www.tilburguniversity.edu/webwijs/show/?uid=fons.vandevijver
· http://www.psy.uq.edu.au/directory/index.html?id=1955